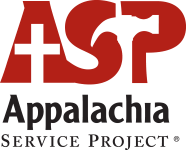 Feeling called to mission work, but don't know where to start?
Lakeside for Youth is offering participants the opportunity to serve during the summer of 2020 by traveling to the Appalachian region of Kentucky with St. Andrew's UMC and their 2019 ASP (Appalachia Service Project) Team.
What is ASP?
ASP was founded in 1968 by retired UMC Pastor "Tex" Evans with the intentions of serving the people of Appalachia by making homes warmer, safer and drier. Each summer over 14,000 youth and adults travel to some of the poorest regions of the U.S. located in Kentucky, West Virginia, Virginia, Tennessee and North Carolina to work on existing homes and build relationships with the families who live there.
Who can go on the ASP mission trip?
Anyone who has completed 8th grade and is 14 years and older is eligible to participate in this construction-based mission trip. No skills are required.
Great. Gimmie the details!
When: Saturday, June 6 - Saturday, June 13, 2020
Cost: $100/youth or college-age young adult, $200/adult, but scholarships are available!
Where: Kentucky - county yet to be determined.
I need a little more information...
Contact Debra at 419-306-9604  for more information.