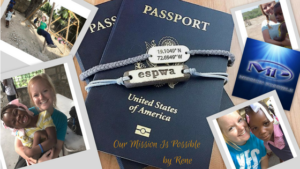 Let me tell you a little story of how God worked in the hearts of those of us on a medical team in Haiti back in November. While up at one of our mountain schools, Dupin, we saw a student that needed a minor surgical procedure. This little boy, Kenbelove, had a growth near his ear. His momma told us that her son got picked on every day because of this issue; the kids would pull on the growth and we knew that eventually one of the kids would pull so hard that it would rip right off of Kenbelove's face. Something needed to be done, and we were so happy that the parents saw the urgency as well and agreed to let us do this surgery on him.
That night, Kenbelove and his father made the trip down the mountain and came to our Mission Center to have the procedure done. The little boy screamed and cried as our doctors and nurses worked, and his father stood beside him, trusting us to do our best. While the doctors worked and Kenbelove's screams echoed throughout the area, the rest of our team members petitioned to the Father on Kenbelove's behalf. Some of us walked the Mission Center grounds as we prayed, while others sat, but all of us were committed to being prayer warriors. While this was happening, Kenbelove's father saw how much we all cared for his son. He watched as one of our team members, Belinda, held Kenbelove afterwards, rocking him and soothing him through his tears.
Afterwards, Kenbelove's father told us that they had been to several hospitals but thought they would never have the money to have this procedure done… but then he saw what we were willing to do for his son simply because we love him. He told us that he wanted what we had: he wanted our Jesus. Right then & there, he dropped to his knees. Kenbelove and our team members around him followed suit as we witnessed this man say YES to Jesus for the very first time! It was a moment of celebration and awe as we ushered him into the family of Christ, and we were reminded that we're not only there to take care of people's physical needs, but to be reflections of Christ in the process. This man saw Christ in us, and we give Him glory for that!
Since then, every time Kenbelove sees a group of Mission Possible team members at his school, he asks for Belinda by name. He remembers the way she held him after his surgery; she is a tangible reminder of love and safety for him. Isn't that just like the Father, to use something painful to draw us closer to His heart?  God is moving in Haiti, my friends; Kenbelove and his father are our reminders of that!